Ho ho ho!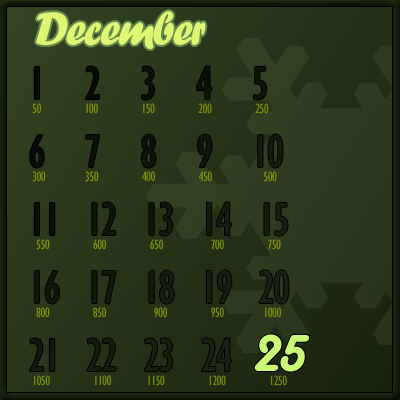 Hello there! I'm pleased to announce that this year every member can sign up for the Advent Calendar '09 tings giveaway!
On each day in December I'll randomly pick one lucky member who'll receive some tings as a gift from Santa!
Don't miss your chance! All you have to do is to leave a post in this topic saying that you sign up!
As the picture shows, the prize will grow daily and on the 25th it'll be quite huge!
Now for some details:
To prevent cheating with side-accounts, all the new members who sign up must have at least 150 posts. Members who can't sign up in November will be able sign up in December too (obviously it'll lower their chances though). Once I get a list of members, I'll make a code which will randomly pick one lucky member out of that list.
[It'll be great if somebody translates this to French]
Members who have signed up:
If your name isn't on the list, you should sign up as soon as possible!
1. Matyuv
2. Hunchman801
3. MLII[2Random4U]
4. Haruka
5. Jona
6. MandM81
7. Acarr
8. Spiraldoor
9. Tobbe
10. PluMGMK
11. DesLife
12. Serza5
13. Xenon
14. Drolpiraat
15. El Dango
16. StaceyW
17. FanBoo
18. Raylex
19. A10das
20. YamiRayman
21. dingodile555
22. abhinav
23. RayStormGirl
24. Phoenixan
25. Quickfist
26. Spyrodifusion
27. Sabertooth1000000000
28. Rayman4321
29. LOVΣ_MΞTΛL
30. bunnieblaster
31. Jman
32. neo
33. Hoodie74
34. iHeckler9
35. K.NARREN
36. Beebop
37. Henchman800
38. MrBadGuy99
39. #Rubber Mark#
40. th3fail