I can't believe nobody has made this topic before, but now that the movie is coming out in less than a month, here I come
WRECK-IT RALPH'S TOPIC
Retro videogame characters from different companies collide in this crazy film about a bad guy who wants to be a good guy. This Disney feature, directed by Rich Moore, is gonna Wreck the cinemas in November 2th this year.
Videos
Original Concept
Trailer 1
Trailer 2
Voice Cast
Fix-it Felix Jr. Commercial
Sugar Rush Commercial
Hero's Duty Commercial
Sneak Peak 1- Hero's Duty
Sneak Peak 2- Ralph Meets Vanellope
Sneak Peak 3- Bad Guy Second Thoughts
"Some Nights" Spot
Welcome to Game Central Station
Wreck-It Ralph is the villain of the arcade video game Fix-It Felix Jr., in which the game's eponymous hero fixes a building that Ralph destroys. For over 30 years, Ralph has been doing the same job and has become tired of being the villain. Wanting to prove he can be a hero and not just a villain, Ralph escapes his game through a power cord and lands in Hero's Duty, a light-gun shooter game[3] where he helps the game's hero, Sergeant Calhoun, battle against "Cy-Bugs" (the game's alien invaders). He later enters Sugar Rush, a kart racing game set on tracks made of candies, cookies and other sweets. There, Ralph meets one of the game's characters, Vanellope von Schweetz, who has learned that her game is faced with a dire threat that could affect the entire arcade, and one that Ralph may have inadvertently started.
Choose your Character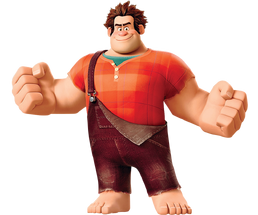 Wreck-it Ralph (John C. Reilly):
Ralph is a heavy-handed wrecking riot with a sensitive soul. For thirty years, day-in, and day-out he's been playing "The Bad Guy" in the arcade game Fix-It Felix, Jr. But it's getting harder and harder to love his job, when no one seems to like him for doing it. Suffering from a classic case of Bad-Guy fatigue and hungry for a little wreck-ognition, Ralph embarks on an adventure across an incredible arcade-game to prove that because he's a Bad-Guy, it doesn't mean he's a bad guy.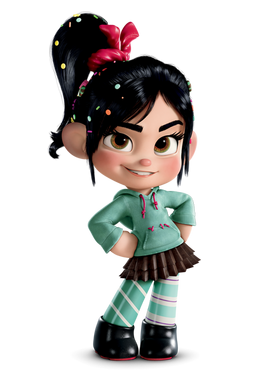 Vanellope von Schweetz: The raven-haired rascal is convinced that she was destined to drive. With a racer's spirit embedded in her coding, Vanellope is determined to earn her rightful place in the starting lineup. Years of rejection have left Vanellope with a wicked sense of humor and a razor-sharp tongue, however, somewhere beneath that hard shell is a sweet center just waiting to be found.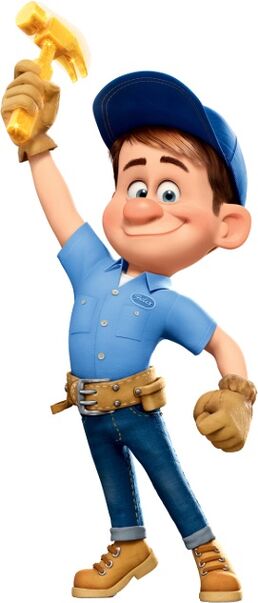 Fix-it Felix Jr. (Jack McBrayer):
As the titular star of Fix-It Felix, Jr., Niceland's hammer-wielding maintenance man is a beloved local hero. This gold-medal-winning good guy is idolized by the Nicelanders and envied by Ralph. When he's not busy fixin' all of Ralph's wreckin', Felix spends his days helping everyone out. Hard-wired for niceness, anything other than being a Good Guy just doesn't compute.
Sergeant Calhoun (Jane Lynch):
In the sci-fi battle zone of Hero's Duty, Sergeant Calhoun is more than just a pretty face-she leads the charge for humanity's freedom. When she's not offering in-game intel, she's training her troops for the next attack wave. The unrelenting commander will stop at nothing to protect the arcade from a virulent Cy-Bug invasion.
King Candy (Alan Tudyk):
All hail King Candy-ruler of the race track, captain of confectionary, sovereign of sugar. Not surprisingly, the most powerful figure in the Sugar Rush game is also the best racer on the track. He may look noble enough, but he doesn't exactly welcome Ralph with open arms. The king is ably assisted by his strong-armed security team, and his diminutive henchman Sour Bill, a tiny little ball of bad.
Already Confirmed Cameos
Pac-man: Pac-Man, Inky, Pinky, Blinky, Clyde
Street Fighter: Ryu, Ken, Zangief, Chun-Li, M. Bison, Cammy
Tapper: Bartender
Super Mario Bros: Bowser, Daisy, Rosalina, Mushroom
Contra: The Konami Code
Metal Gear: Exclamation Mark
Mortal Kombat: Kano, Smoke
House of the Dead: Cyril the Zombie
The Legend of Zelda: Deku Link
Dance Dance Revolution: Yuni Verse
Sonic the Hedgehog: Sonic, Tails, Dr. Eggman
Q*Bert: Q*bert, Coily, Slick, Sam, and Ugg
Altered Beast: Neff
Paperboy: Paperboy
Joust: Knight
Frogger: Frogger
Dig-Dug: Dig Dug, Pooka and Fygar.
Pong: Paddle 1 and Paddle 2
Burger Time: Peter Pepper
Qix: Qix.
Reviews
Schmoes Know
5/5 and 5/5
MovieManMenzel
7/10
Lon Harris
Thumbs up
Steven Hunts
"Best Animated Movie of the Year"